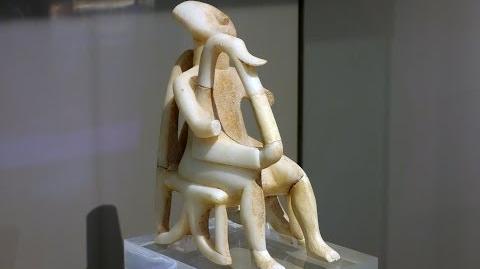 Quick Facts
Edit
Here are some quick facts about the Cycladic Harp Player:
This marble figure is one of the earliest known representations of musicians from the Early Cycladic period.
The figure is playing a harp, and holding the instrument against his right shoulder.
Cycladic civilization is an Early Bronze Age culture of the Cyclades, Greece, in the Aegean Sea, spanning the period from approximately 3200–2000 BC.
The top of the harp features an ornament carved in the shape of the head of a waterfowl.
Other items from this time period include pieces of pottery (bowls, boxes, and vases) female figurines, and tools. 
Ad blocker interference detected!
Wikia is a free-to-use site that makes money from advertising. We have a modified experience for viewers using ad blockers

Wikia is not accessible if you've made further modifications. Remove the custom ad blocker rule(s) and the page will load as expected.