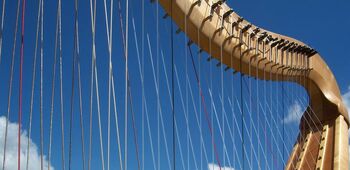 The cross-strung harp has two rows of strings which intersect without touching. While accidentals are played on the pedal harp via the pedals and on the lever harp with levers, the cross-strung harp features two rows so that each of the twelve semitones of the chromatic scale has its own string.
This article needs more information! Can you help contribute?
Further Reading
Edit
Ad blocker interference detected!
Wikia is a free-to-use site that makes money from advertising. We have a modified experience for viewers using ad blockers

Wikia is not accessible if you've made further modifications. Remove the custom ad blocker rule(s) and the page will load as expected.