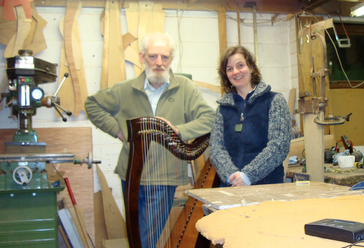 Paddy Cafferkey is a harp maker, now retired, from Galway Ireland. Cafferkey did not have a website, so if you have more information to contribute, please do!
Newspaper
Edit
A story about Paddy and his workshop in the New York Times:
"On the other side of the country, in County Galway, Paddy Cafferky works in a new and unusually spacious shop beside his 50-year-old farmhouse. A slightly built, soft-spoken man, Mr. Cafferky specializes in the gut-strung harps favored by players with a more classical approach to the instrument.
Like most of the country's harp makers, Mr. Cafferky does not play the harp himself. He says he relies on professional performers to evaluate the sound of his instruments and modifies the harps according to the comments he receives. Among his innovations is an ingenious lever system to obtain precise sharps; it is operated by rotating an offcenter screw.
After he shapes the various sections of a harp, decorative carving is applied by Michael Ryan, a Dublin craftsman. Celtic-inspired faces, flowers and other forms are carved into the mahogany pillar and top, or harmonic curve. Corresponding, though flattened, images are lightly incised into the spruce soundboard.
Mr. Cafferky says his gut-strung harps are particularly sensitive to changes in humidity. Because they are constructed in Ireland's humid climate, they cannot be shipped to extremely dry locations." [1]
Forum Comments
Edit
A review of Paddy's harps on Google Group:
"I ...bought an Irish harp from Paddy Cafferky ... in Galway Co. Ireland and have been extremely satisfied. Good quality, nice tone, doesn't have to be retuned all the time when you move it from one room to another. We went to Ireland to pick it up from him in person and had a great time. ... Last I heard Paddy has a 2 year wait for his harps from time of ordering to delivery." [2]
A discussion on strings for Paddy's harps in Harp Column:
(HBrock25) "I want to restring it with gut. It currently has all nylon, but I read somewhere that it was not made for nylon because the tension is too high for the instrument. Also the nylon strings don't fit the lever grooves in the lower octaves, and buzz." (Fearghal McCartan) "I play a Cafferky 34 string (made in 1999) and use Savarez 'Alliance KF' composite strings on it. The bass strings are wire-wound composite." [3]
References
Edit
↑ Mashburn, Rick. "Finding an Authenic Irish Harp." The New York Times. The New York Times, 7 Oct. 1989. Web. 25 Sept. 2015. <http://www.nytimes.com/1989/10/08/travel/shopper-s-world-finding-an-authenic-irish-harp.html>. 
↑ "Google Groups." Google Groups. 2 Feb. 2000. Web. 25 Sept. 2015. <https://groups.google.com/forum/#!topic/rec.music.celtic/KLJGNX6pAO0>.
↑ "Paddy Cafferky Harp | Harp Column." Harp Column. 25 Dec. 2010. Web. 25 Sept. 2015. <https://www.harpcolumn.com/forums/topic/paddy-cafferky-harp/>. 
Pages in category "Paddy Cafferkey"
This category contains only the following page.
Ad blocker interference detected!
Wikia is a free-to-use site that makes money from advertising. We have a modified experience for viewers using ad blockers

Wikia is not accessible if you've made further modifications. Remove the custom ad blocker rule(s) and the page will load as expected.